Thank You For Your Support!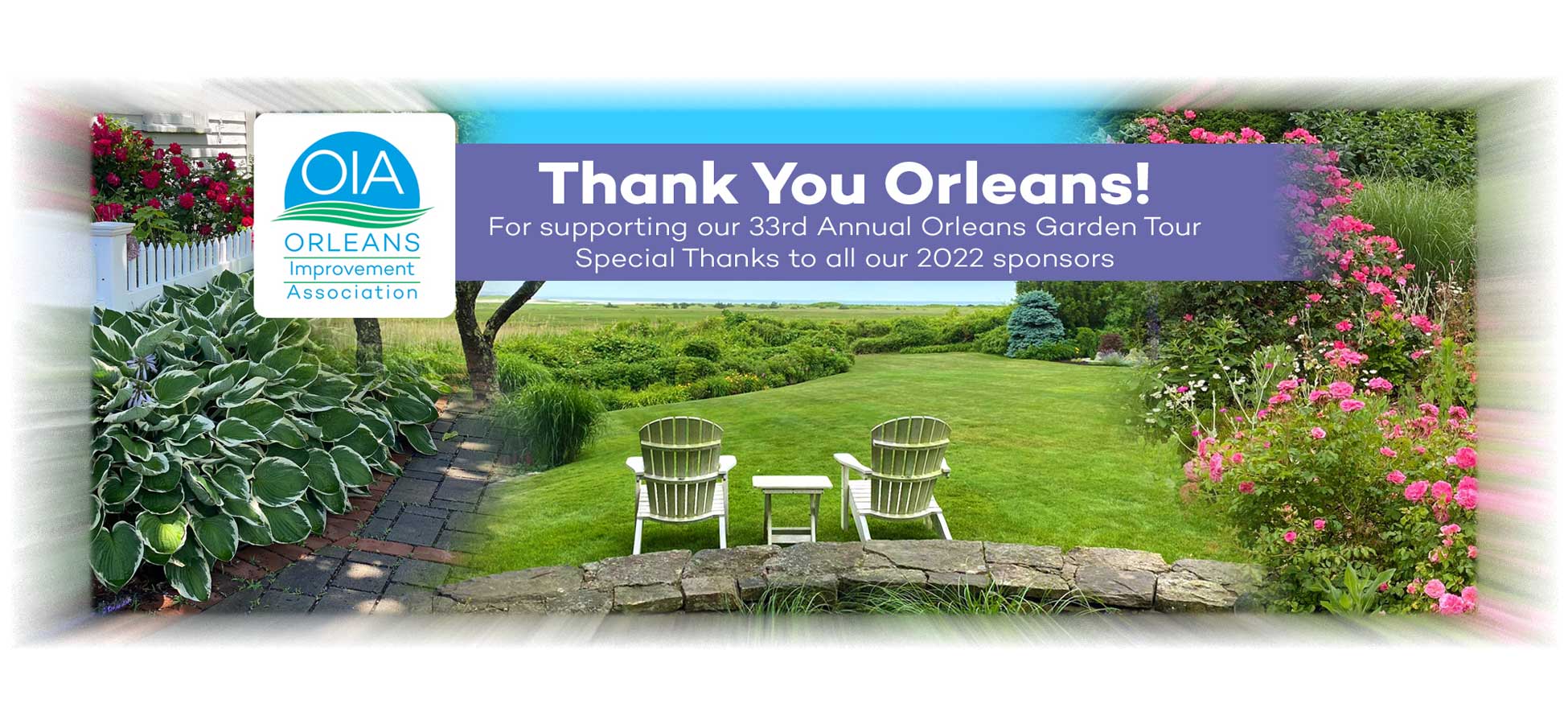 We are so grateful to all our 2022 Business Sponsors.
Please support our sponsors. Thank you!
Want to know more about our sponsors?
Click on their logo to find out more.
Perennial Garden Sponsors
Pollinator Garden Sponsors
Wildflower Garden Sponsors
Architectural Design Inc.
Bartlett Tree Experts
Brewster Sand and Gravel
Cooke's Seafood
Fuller Locksmith-Anchorage Home Watch and Property Management
Hardman Liberles Team at Gibson Sotheby's International Realty
La Bella Vita – Rock Harbor Grill
Laura Haddad at William Raveis
Leona Bicker at
Gibson Sotheby's International Realty
Main Street Wine and Gourmet
PRO Fence
Sea Howl Bookshop
Snow's Home and Garden
The Knack
The Local Scoop
Unique Properties Real Estate
Wilkinson & Associates Real Estate 
Please Support Our Non-Profit Partners
Please support our Non-Profit Partners who share our mission of improving Orleans: Master Gardeners Association of Cape Cod, Orleans Community Partnership-Orleans Cultural District, Pollinator Pathway Cape Cod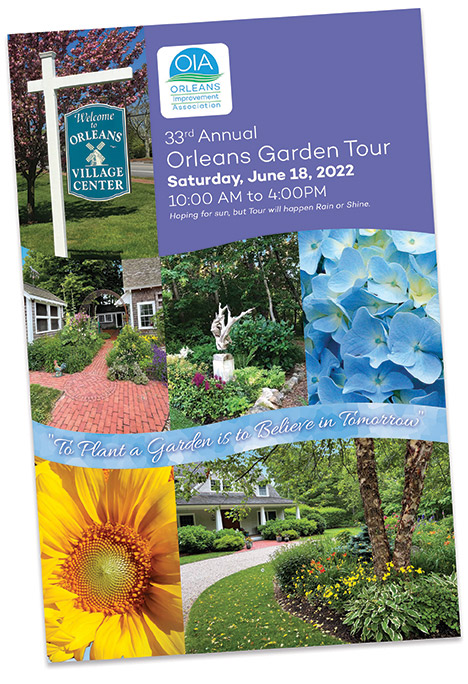 33rd Annual
Orleans Garden Tour
Saturday, June 18, 2022
10:00 AM to 4:00PM
Hoping for sun, but Tour will happen Rain or Shine.
Enjoy a day of exploration! Six lovely Orleans gardens will be on display for this One Day Only! Take in an exceptional variety of plantings – discover a hidden oasis – learn about pollinator-focused gardens – wander on scenic garden paths – all vibrant and uniquely full of Cape Cod character.
Representatives from the Master Gardener Association of Cape Cod will be on site to answer your questions.
Plein Air painters will be creating at the gardens.

Plein-air painters will be in the gardens creating beautiful, original artwork.
Linda Beach
at 27 Beach Plum
Peter Kalill
at 155 Monument Road
Taylor Fox
at 15 Baxter Lane
Mary Wojciechowski
at 29 Harbor View
Stefanie Taranto

at 6 Seavers
Meet the artists, view their works from the day, along with other new works from the galleries' current collections, at these post-tour receptions.
Gallery 31
34 Main Street, Orleans
Reception: 4-6 PM, June 18
Refreshments and Live Music
Artists: Mary Wojciechowski and Paula David
Linda Beach – Linda Beach Studio Orleans
________________________________
Modern Art
85 MA-6A, Orleans
Reception: 4-6 PM, June 18
Refreshments
Artists: Peter Kalill and Taylor Fox Firehouse
________________________________
Community Center Cultural District Activities
Natalie Timoshin – Pastel Painter
Pop Up Music 1:00 pm – 2:00 pm
Blu Central: Frank Poranski and Lary Chaplan
About The Gardens
Additional details and directions are included with your ticket.
Garden #1
This pocket park in the center of Orleans is a gem loved by the communtity and maintained by the OIA and Town staff. The Parish Park gardens are a mix of native plants and seasonal bulbs and perennials, while the garden along the walkway (Theresa's Way) is an ongoing project of the Orleans Improvement Association – demonstrating how to create a "native plant garden" in an urban area. This strip of park has been transformed over the last few years with all native plantings, with more planned. The Pollinator Pathway Cape Cod has representatives on hand to talk with you about the importance of and benefits you will receive by adding native plants to your garden. Orleans' historic firehouse is now the home of the Orleans Community Center and the Orleans Chamber of Commerce. (Restrooms are located in the rear of the building).
Garden #2
The former CEO of one of New England's pre-eminent plant nurseries and his wife take great pleasure in their Cape gardens. This property is situated on 18 acres overlooking Cape Cod Bay on Namskaket Marsh. The site offers amazing vistas and is a haven for birds and butterflies. The four acres of uplands are filled with large specimen trees and shrubs including Ilex, Hinoki Cypress, Dogwood, Viburnum and Maple and many unique Japanese pines. There are two formal perennial gardens, a large Japanese garden, a cutting garden, a multi-level dipping pool with infinity edge, stone walls, and a large collection of hydrangea, lilac, roses, dwarf conifers, clematis, ferns, and hosta. There are also Cape climbing roses over portions of the roof hinting of Sconset on Nantucket. The family's collection of garden sculpture adorns the grounds, drawing the eye to all areas of this unusual property.
Garden #3
This 1790s farmhouse, nestled on a steep hillside, enjoys a mesmerizing view over Pilgrim Lake. But that hillside and its proximity to a busy road used to mean lots of destructive runoff. Since 2018, using ancient indigenous African, Asian, Mesoamerican and Native American techniques, and only hand tools, the owners have worked hard to restore the old homestead. Dormant season rain and snow melt is gracefully captured, recharging the subsoil moisture, leading to vigorous summer growth even in times of drought. Creatively capturing, guiding, and organically purifying hillside, roof and roadway stormwater is the lifelong mission of Peter Jensen and his wife, ecologist and realtor, Lynn Van Norman. Throughout the 1.5-acre property, which includes lakeshore marsh as well as upland hills, lawn, and woods, you will discover beautiful rock-lined road gardens, driveway and hillside water walks, hugel terraces, downspout keyhole gardens, hillside tierdrops, swales, terraces, and a memorial rock garden formed from the unearthed foundation stones from the 1700s horse stable.  All these various gardens are in place for you to investigate and explore with several intentionally left 'unfinished' so that you can actually see the process underway.
Garden #4
After acquiring the property in 1998, the owner began a multi-year effort to convert the property to a park-like setting. Scraggly, invasive trees were removed first. The soil was tilled and amended with cow manure and then seeded and watered by hand. A variety of shade and sunny beds were added, of which the rose garden and perennial garden are particular highlights. In spring, the yard is filled with thousands of daffodils which also surround the pool area along with colorful tulips. Raised beds are filled with a variety of annuals each year and the garden shed is covered with an enormous climbing hydrangea. Multitudes of foxglove, lupines, and bee balm are found in the perennial garden in addition to a particular favorite, fern-like astilbe. The expansive lawn area allows for a variety of seating areas to sit and relax and enjoy the view of Meetinghouse Pond.
Garden #5
A one-acre wooded lot on a hill was the perfect site for a modern treehouse. Plans were drawn by an architect in the family and Cape builder and former NJ neighbor, Bruce Hirshberg, built a soaring house in 1986 with views of Mill Pond. After taming the poison ivy, the owners worked to incorporate rhododendrons, azaleas, and hydrangea along with the native plants (pitch pine, bayberry, and blueberries) to create a natural-themed garden. The long driveway is framed with hostas, daylilies, a dry rock-lined stream bed, and new water conserving berms on the hill. By the front door, a perennial garden with a brick pathway provides color, cut flowers, berries, and seeds for the birds, bees, and butterflies. Off the small circular front lawn, one path leads to a peaceful bench, another path heads down to a hidden slate patio and shade garden. The backyard has two gradual descending staircases fitted into the hillside around island plantings. Children and grandchildren have played soccer and horseshoes on the lawn and built the pirate ship which survived a fallen tree strike. The proud 92-year-old self-trained gardener/owner can be found working in this lovely hillside garden almost every day of the growing season!
Garden #6
These gardens have evolved into various scenes over the past 19 years. Lining the road are many different plantings, including perennial grasses, barberry, lilies, heather, drift roses, foxglove, and cherry laurel. In front of the house, the owners have planted bulbs (daffodils and lilies), hydrangea, and heather to welcome Spring. Along the driveway are holly bushes, iris, succulents that love the sunny location, and phlox. The wall of pots along the fence contains annual varieties. As you enter the backyard, you will find the herb garden that is routinely enhanced by additional contributions from the multitude of birds that frequent the garden. Across the patio, is a shell path and woodland garden among the cedar trees displaying varieties of hosta, andromeda, mountain laurel, hydrangea, primrose, bleeding heart, creeping Jenny, astilbe, and lily of the valley. In the corner by the chimney is a 'white' garden; although unexpected color does occasionally pop up! White carpet roses, sedum, white cone flower, and white guara are found here. Another shell path leads to a variety of perennials, evergreens, deciduous plantings that display different seasons. The stone path is still in process! The work of a curious gardener never ends.
Excited To Get Involved?
Become A Member or Donate Today!