Don't Miss the 90 Nights of Orleans Lights!
The Orleans Improvement Association and the Department of Public Works have joined forces to create an illuminated Nightscape for Orleans this Summer from June 15th – September 15th.
Plan a leisurely "Light Walk" through town to enjoy the twinkling trees, illuminated with hundreds of white lights. Begin at Snow Library where the stately tree on the Library lawn dazzles the eye. From here, trees studded with lights lining both sides of Main Street, beckon you towards Parish Park. Stop at Parish Park to enjoy the magical, courtyard trees. Then continue on to Depot Square to view the newest Giant, light sculpture, "The Townie" bicycle which stands between two graceful dogwood trees dancing with lights. The Townie bicycle, funded by the Orleans Improvement Association in collaboration with the Orleans Cultural District was created by the artist, Michael Magyar. Wrap up your evening by strolling across the street to see the whimsical Artist Cottages.
The OIA thanks Tom Daley, Public Works and Natural Resource Director, Ron Collins, Facilities Manager, Dennis Hall, Assistant Public Works Manager and the entire staff of the Orleans Department of Public Works for their collaboration, implementation and creative vision that helped make these 90 Nights of Orleans Lights possible.
Townie Bike, Depot Square, Orleans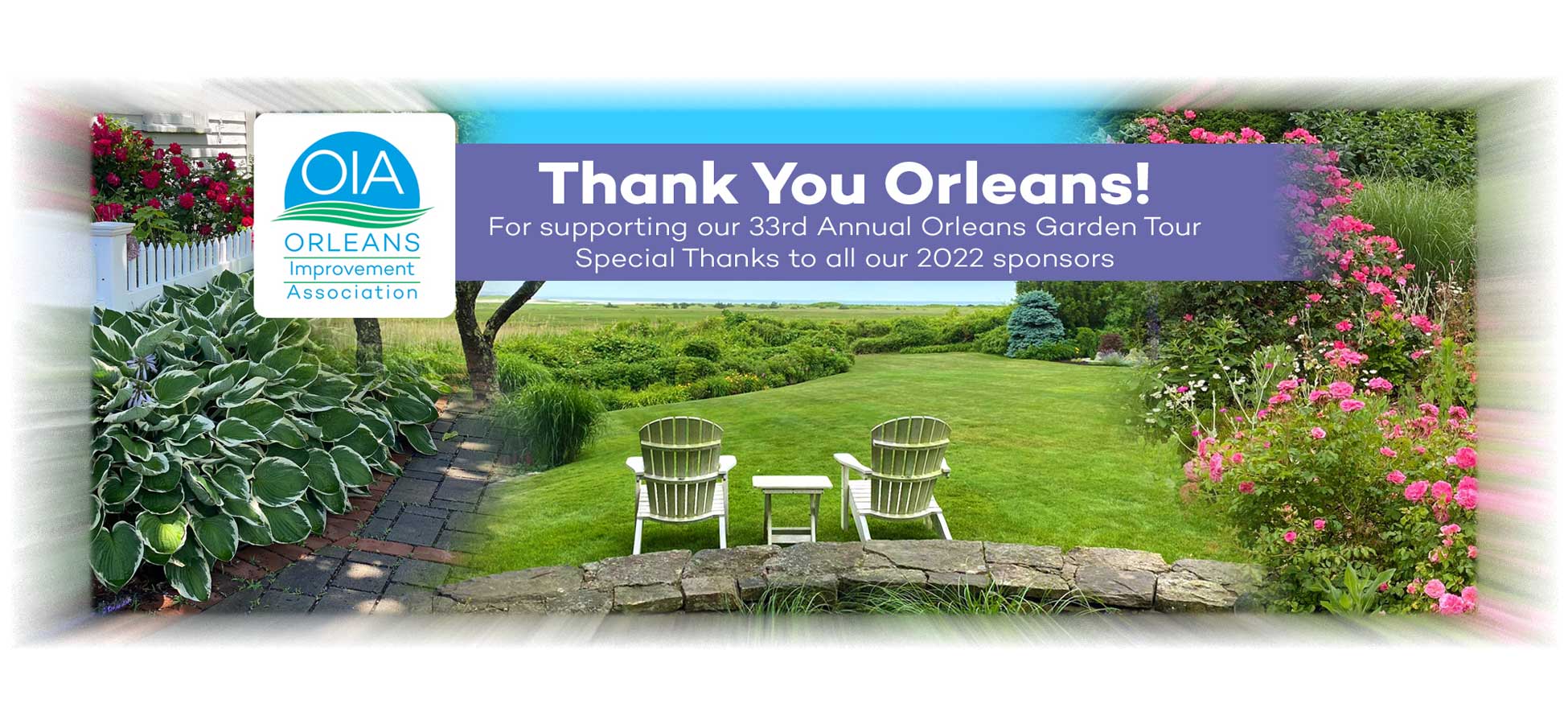 Thank you to all our sponsors, garden owners, Town of Orleans officials, dozens of garden and parking volunteers, OIA members, gallery owners and artists, master gardeners, and the hundreds of visitors who supported the tour and enjoyed the day outside in the varied and beautiful gardens of Orleans. All proceeds fund public projects to beautify and improve Orleans.
Who we are…
In 1986, a group of caring Orleans residents created the Orleans Improvement Association. Since its formation, the non-profit OIA has actively solicited the participation of residents, both year round and seasonal, businesses and other non-profit organizations, with the purpose of improving the physical character of Orleans.
Help Us Keep Orleans Beautiful!
The OIA has a long standing tradition of providing support to our town when tax dollars or other public funding is not available. The OIA is funded by annual membership contributions, generous donations by businesses and private citizens, and fundraising activities – most notably our annual Garden Tour.
Meet with us!
The OIA membership meetings are held in the Skaket Room at Orleans Town Hall during selected months. Contact OIA for current meeting schedule.
OIA meetings are open to the public.
Subscribe to the OIA eNewsletter
Stay informed! Get up-to-date information about the OIA – upcoming projects and events – delivered to your email inbox.
Excited To Get Involved?
Become A Member or Donate Today!