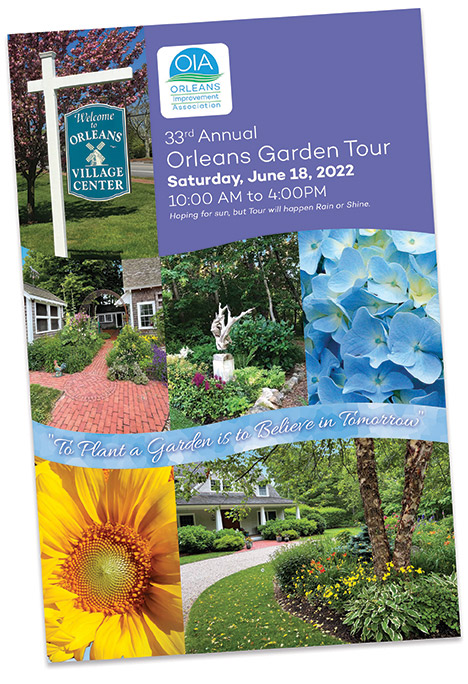 33rd Annual
Orleans Garden Tour
This year's Tour will take place Saturday, June 18, 2022.
10:00AM to 4:00 PM
Tickets are available for purchase online and go on sale late May at Agway, Friends', Snow's and The Farm. 
The Tour is a highlight of the early summer and is a "not to be missed" event attended by hundreds of residents and visitors. Attendees typically make a day of the Tour – viewing each private garden, shopping at local businesses and galleries, and dining in or taking out from a local restaurant.
Who we are…
In 1986, a group of caring Orleans residents created the Orleans Improvement Association. Since its formation, the non-profit OIA has actively solicited the participation of residents, both year round and seasonal, businesses and other non-profit organizations, with the purpose of improving the physical character of Orleans.
Help Us Keep Orleans Beautiful!
The OIA has a long standing tradition of providing support to our town when tax dollars or other public funding is not available. The OIA is funded by annual membership contributions, generous donations by businesses and private citizens, and fundraising activities – most notably our annual Garden Tour.
Meet with us!
The monthly membership meeting is held on the third Tuesday of the month, excluding February and March, in the Skaket Room at Orleans Town Hall.
OIA meetings are open to the public.
Subscribe to the OIA eNewsletter
Stay informed! Get up-to-date information about the OIA – upcoming projects and events – delivered to your email inbox.
Excited To Get Involved?
Become A Member or Donate Today!