OIA Annual Garden Tour 2021 – Mark your calenders now – June 26th
The OIA is supporting the "Winter Light" in Orleans with the addition of blue lights on the Village Green lighting installation.
Thank you Orleans Chamber of Commerce and the Orleans Cultural District!
We love Orleans!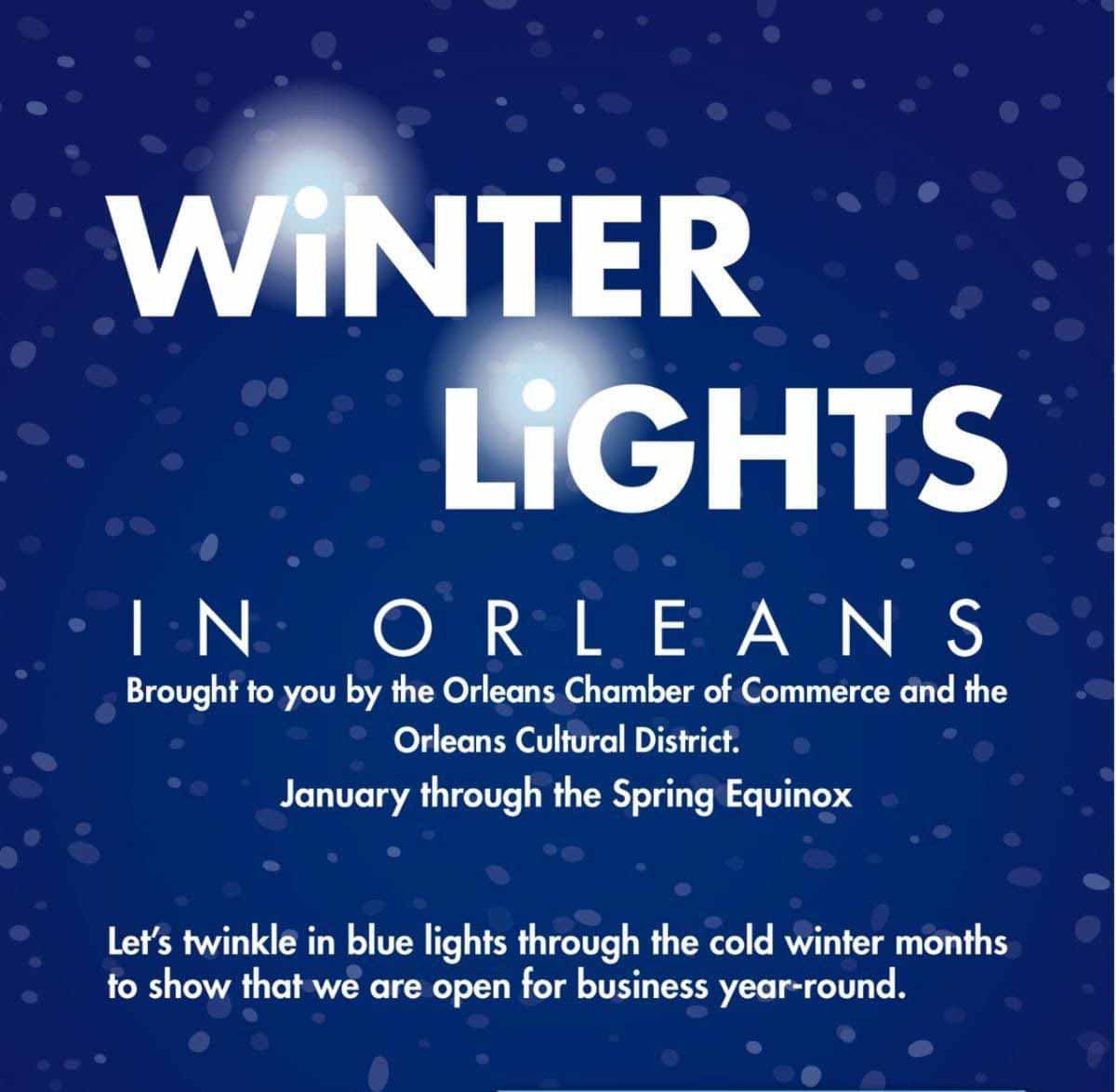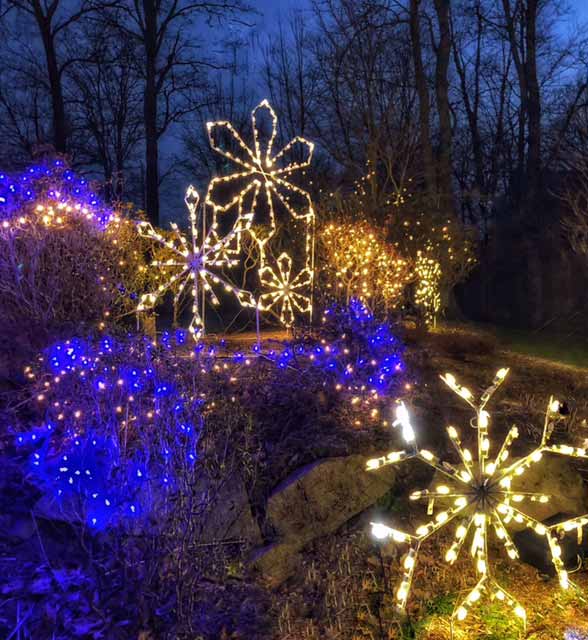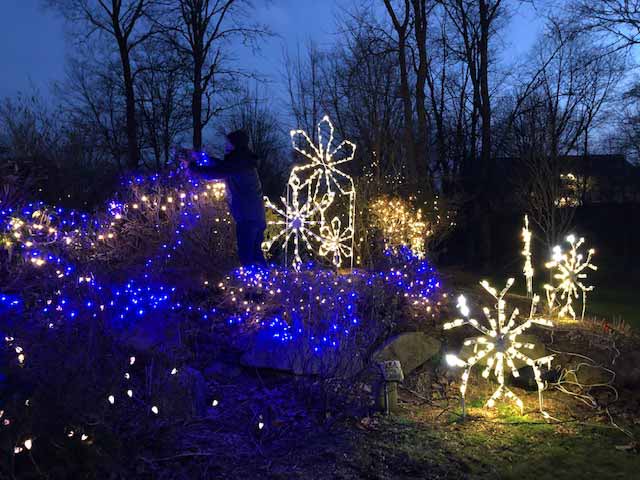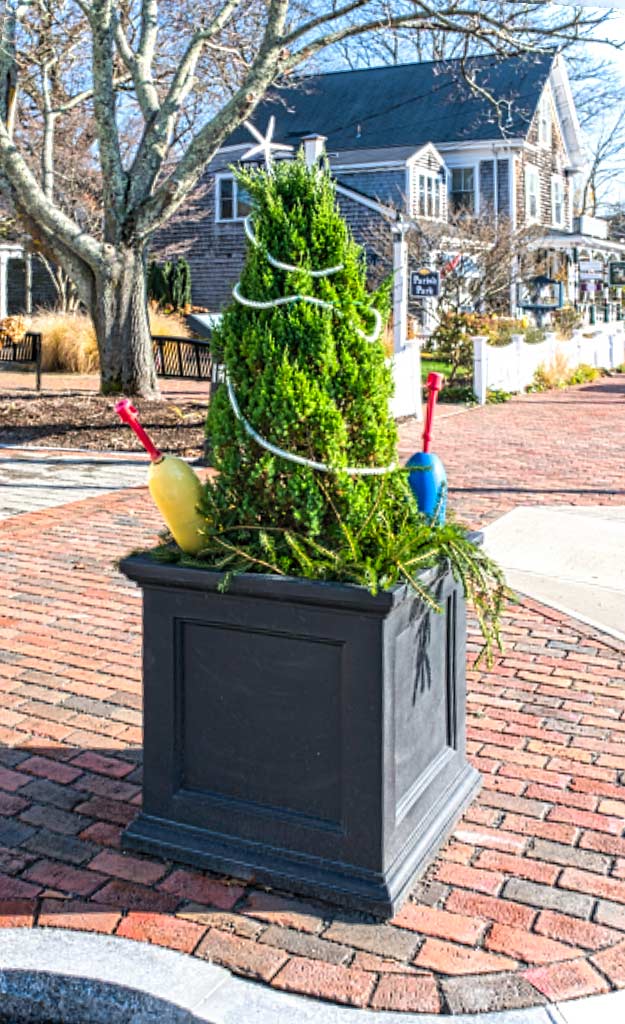 Festive Planters Line Main Street, Orleans. Planted and Maintained by The Farm and Funded by OIA. Shop Local This Holiday Season.
Improvement Association Can Beautify Anything – Even A Sewer Cover
By: Ed Maroney
 Topics: Wastewater Treatment
ORLEANS — "Class" is not the first thing that comes to mind when thinking about sewers. Ed Norton and his undershirt, yes, and perhaps escaped alligators, yet nothing particularly elevating.
But DPW Director Tom Daley and the Orleans Improvement Association have put their inspired stamp on the otherwise mundane covers that will conceal access to sewer lines and drainage areas in coming years.
At a conference, Daley saw samples of custom covers made for other towns and thought a distinctive marking for Orleans "would be fabulous." For years, the town has bought its covers from East Jordan Iron Works, of Michigan, now known as EJ. "We buy them anyway," Daley said in an interview. "All we're doing is putting a custom cast on the cover. You pay East Jordan $5,000 and they will design a custom cover." That's the only additional one-time charge; the imprinted covers are the same weight and contain the same amount of iron.
Daley pitched the idea to town officials and there seemed to be some interest. "Then the Orleans Improvement Association stepped up," he said, "and they were willing to fund the $5,000 for the design." Nancy Jorgensen and Ronna Kazarian of the OIA joined him for a meeting in town with EJ sales rep Jeremy Cohen. "They really wanted to bring forward something that was truly Orleans," Daley said.
Since they were working with a round space, Jorgensen said in an interview, "the town seal was the perfect place to start and use as a model for what the sewer cover should be. Ronna and I put our heads together and ran some ideas by Tom and Jeremy about what we could and could not do at the foundry."
The committee "wanted something that really reflected the town's history," said Jorgensen, "the (Jonathan Young) windmill, the founding date. We tried to link it to anything nautical. That's where the rope idea came up."
It seems funny, she said, "to get excited over sewer covers, but you saw the possibility of the art work and what that foundry was able to do. The foundry (which opened less than a century after Orleans was incorporated) is in the United States, which is wonderful."
The OIA "has a long history of working with the town and the department of public works on projects," Jorgensen said. "We've been in existence 34 years." A list of projects can be seen at orleansimprovement.org, which is also where people can submit ideas and become members. "We're always looking for projects like this," said Jorgensen, who estimates that the group has donated more than $355,000 to the town since 1986.
In keeping with pandemic procedures that limit group activity, we can't tell you in advance about OIA's next project, but watch for pictures later this month. And keep an eye out for those new, distinctive covers — but don't sweat the alligators.
Excited To Get Involved?
Become A Member or Donate Today!